*ALL RIGHTS RESERVED BY RITTER'S BBQ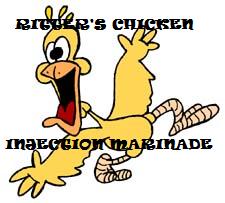 Our Chicken Injection Marinade was blended with the Cook in mind. We added what Flavors we thought should be in a chicken and the product that will help keep your chicken moist, so it doesn't dry out while waiting to be Judged or at the Serving table. We also made it less saltier so that the Cook could customize it to their liking, some cooks are adding it to their Brine to give it a Boost! Of course we would like to recommend Our Sweet Peach, Peachy Peach, Pecan, Just
And our most popular for Chicken, Cluckin Buckin Rub. This may be used as either an Injection or Marinade. It has helped many Cooks receive 1St PLACE Calls!
Directions : Mix 1/4 c. to 1 c. liquid of your choice,water,apple juice,chicken broth,etc. Heat till dissolved,do not boil! This should do a whole chicken or about 6 -8 pieces if injecting. Inject 3 hrs-30 min before cooking depending on whole or pieces and desired flavor. If Marinating you you might want to increase recipe and you can add 1/8 c. seasoning to 1/4 c. Powder or for just a saltier taste 1 T. Kosher salt. I recommend a gallon freezer Ziploc for marinating, letting the air out so you have coverage of meat.
If you ever have questions about the Injection Marinade just give us a hollar, we want you to get good results with our product.